There are not two people in the world with the exact same handwriting. The way we write is something so unique and personal that there is even a science, the graphology, which analyses the physical characteristics of handwriting and links the author to a certain type of personality or psychological traits. The most celebrated brands of writing instruments are well aware of this phenomenon, and so we can find a wide variety of nibs which adapt to the needs and preferences of each one of their clients.
The way a nib writes can be determined by many factors. The most important ones are its size, its shape, the materials of which it's made, and its flexibility. The most standard sizes for a nib are extrafine (EF), fine (F), medium (M) or broad (B). When choosing the ideal nib for your fountain pen, please notice that Japanese fountain pens have a slightly finer line than western ones. This is because Japanese handwriting is way more complex, and so it requires of a more precise nib. In that sense, a M Japanese nib would be roughly equivalent to a western F one. Get to know more about the different sizes available for a nib here.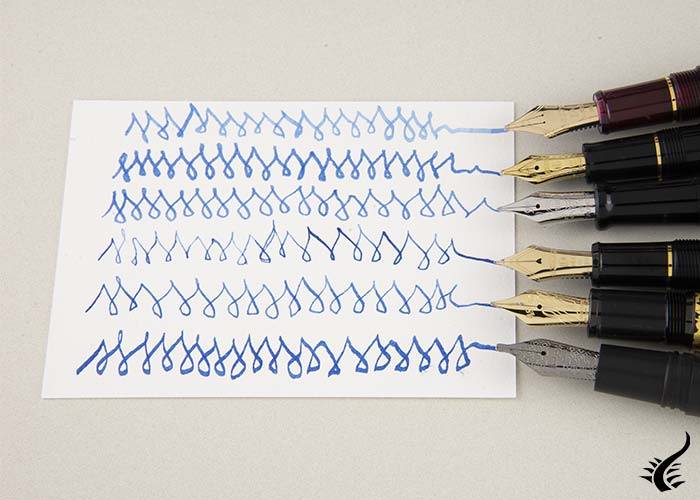 Another key point when choosing a nib is the material of which it's made. Nibs can be manufactured in stainless steel, solid gold, bicolor gold, rhodium plated gold or ruthenium. Gold nibs are usually more flexible than steel ones, while rhodium and ruthenium are materials used to strengthen the nib. The flexibility of a nib is determined by how the tines move when pressure is applied, increasing or decreasing line-with variation. Finally, the most common shape for a nib tip is rounded, although it is possible to find other options, such as the straight tip shape of an Italic nib.
That being said, many of the most popular brands of writing items have pushed the boundaries and created unique shapes for their nibs. Find here what are the most uncommon nibs available in the market.